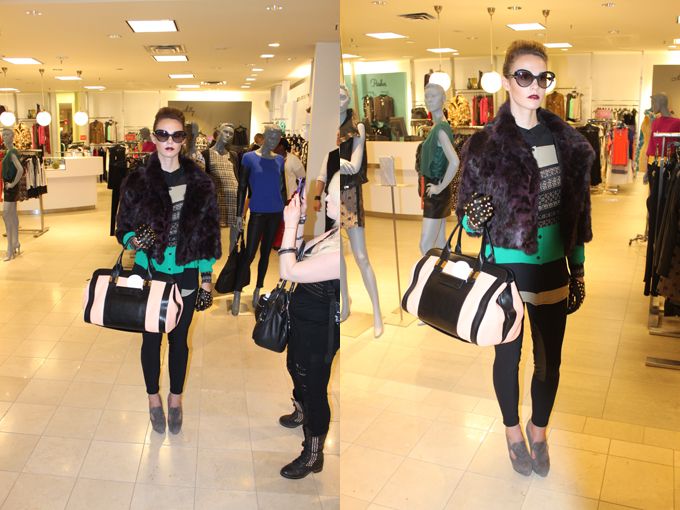 Not unlike countless fashionistas the world over, I too attended Fashion's Night Out, but perhaps for a different purpose than many.  You see, I had half-accidentally come across a competition called "Project Style" two days prior to the grand event.  I submitted my entry—a polyvore'd look I dubbed "Victorian Vamp"—and waited half-expectanctly for the results.  To my surprise and sheer delight, I found out I was one of just three finalists the very next day.  
We tres amigas were then given the unique opportunity to convene at Saks exactly 1.5 hours prior to the start of FNO in order to style our own live models, mine being the a-freakin'-mazing Hannah.  Walking around that big store by myself, arms weighed down with racks-on-racks of designer garments, you would think I'd have been overwhelmed. On the contrary, I couldn't have enjoyed myself more, despite the multitude of concerned "Are you OK's?" from the kind Saks staff (it's ok guys, I just sweat a lot).  Post- hair (thanks Vivian from Mitchell's!) & makeup (and Jennifer from Chanel!), the look came together better than I could've ever dreamed: a mash-up of 60s mod it-girl and futuristic jetsetter, made even bolder with Hannah's FIERCE posing.  
And although I didn't win, I did…if that makes any sense at all.  The night was a dream, and the support I received makes me semi-emotional when I think about it.  Thanks, friends, for being so darn encouraging, and for putting some more sparks in yet another dream of mine!